Our products are aftermarket, resembling OEM quality & are applicable for MARINE ENGINE AUXILIARY SPARE PARTS, MARINE PRIME MOVER, LOCOMOTIVE ENGINE
cylinder liner
Shri Ram Engineers are manufactures of full range of marine cylinder liners and all types of marine industrial products. OEM quality marine cylinder liners are developed as per customer's requirement including the specified chemical and metallurgical specifications. These marine cylinder liners are developed in gray cast iron using centrifugal casting and utilizing special compositions to enable both the wear resistant properties as well as enhanced lubrication. We ensure technological standards in our manufacturing process which includes casting as per modern technology. Bore size for the marine cylinder liner ranges from to 180mm to 400mm, we also provide a semi-finish or finished marine cylinder liner as needed in various types of marine engines. Casting capacity weight ranges from 150kg to 500kg. And for heavy marine cylinder liner, we maintain the following chemical composition:-
Carbon::2.80-3.50%
Silicon::1.70-2.30 %
Manganese::0.60-0.90 %
Chromium::0.20-0.50 %
Copper:: 0.20-0.50 %
Sulphur::0.15 Max. %
Phosphorus::0.15 Max. %
Molybdenum::0.20-0.50 %
Nickel::0.08-0.25 %
Hardness is maintained during various kinds of casting process, ranging from 220 to 280 BHN. Annealing stress is relieved after rough machining. We can provide chrome plating, phosphating, nitriding etc. as per the client's specifications.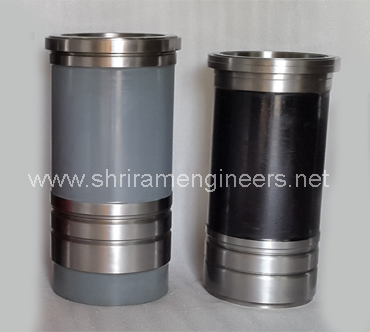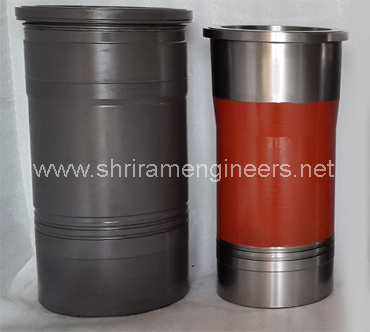 piston
Pistons up to 350mm diameter are developed.
Material used includes aluminum LM 13, graded cast iron etc.
Die casting for piston is also provided according to customer requirements.
The piston helps in giving compression to the engines, improving efficiency.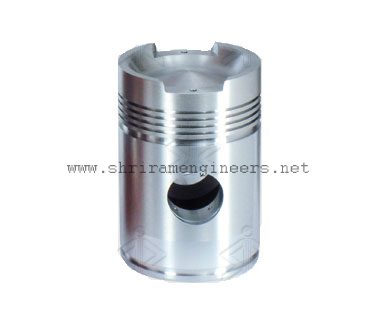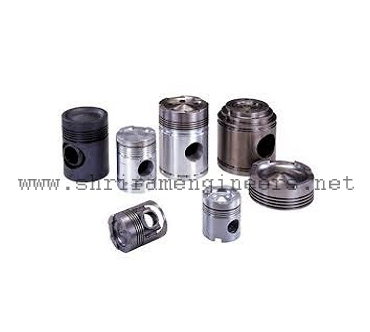 piston ring
We manufacture piston ring with up to 680mm diameter and is made from special cast iron, piston rings are used for sealing the gap between a piston and the cylinder wall. Its main features are:
Helps in sealing of combustion or expansion chamber
Supports heat transfer from piston to cylinder wall
Regulates engine oil consumption
Types of piston ring includes, top compression ring (rectangular ring, keystone ring, half keystone ring), intermediate ring (napier ring undercut, scraper ring stepped) and oil control ring (slotted oil control ring, beveled-edge and double beveled oil control ring).
Materials for manufacturing the piston rings includes, chrome plating, Ductile Iron (S G Iron), Steel, Phosphor Bronze, Sintered Iron, Sintered Bronze, Brass, Inlaid Moly coating, Copper Alloy Coating, Ptfe Coating etc.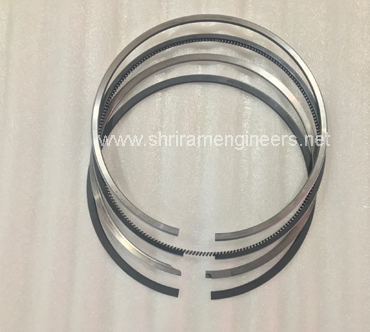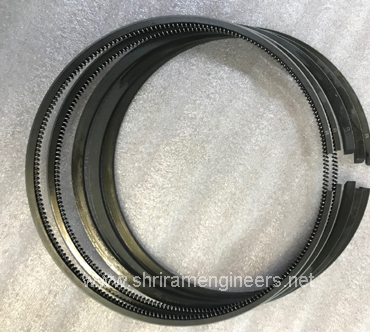 piston pin
We produce perfect piston pins (gudgeon pin) which are duly heat-treated with 60 HRC with smooth grinding/mirror finish.
Materials include Alloy Steel grade SAE8620 / EN353 / 16mncr5 etc.
Customized piston pins are developed according to customer's requirement.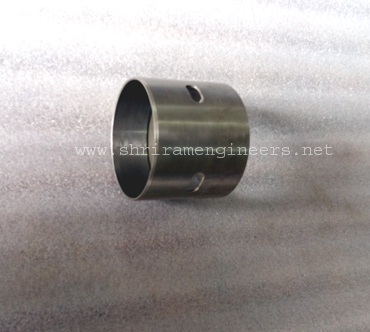 inlet/exhaust valve
We develop both inlet valves as well as exhaust valves which are made by gathering Metal upset forging process and bimetallic valves are friction welded. Various processes such as chrome flash on stem, stellite on the seat and tip area with nitriding-tuftriding etc. processes.
EN24(BS817M40), EN52(BS401s45),21-4N(BS349S52) etc. materials are used.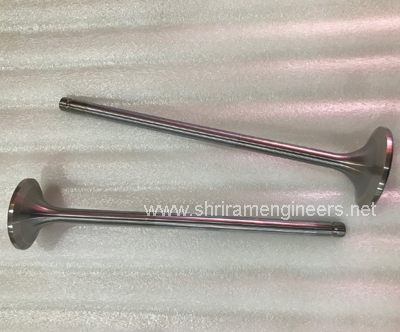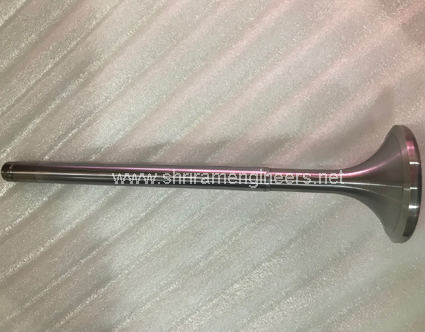 valve guide
Our valve guides are made with graded cast iron and with proper specification. They are heat treated for toughness and machined with high precision. Closely maintained inner-outer diameter with highly smooth inner surface and finely grinded outside ensures correct fitment.
Non ferrous valve guides made from phosphorus bronze and special alloys are offered.
Tip induction hardening is done to ensure high wear & tear.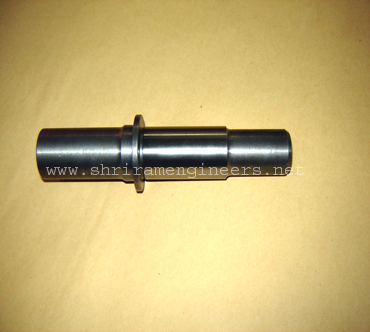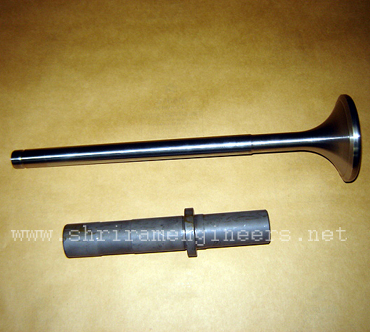 valve seat
We present a wide range of valve seat inserts which are made from forging / casting with nickel, chrome, cobalt and iron based alloys that display superior wear and heat resistant properties. Valve seat inserts can be used in more than 60 type of engines running by light fuel oil, heavy fuel oil as well as natural gas with light-load high speed and heavy-load high speed respectively.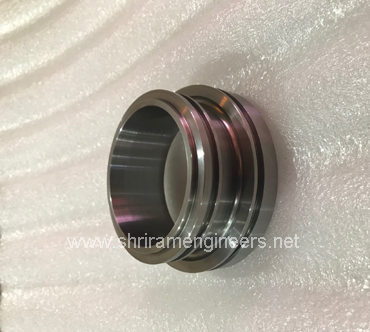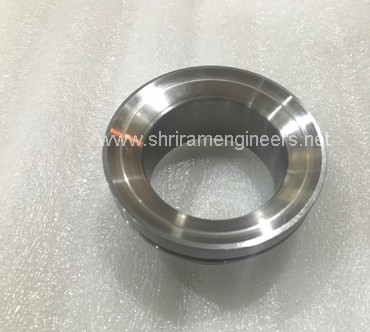 fuel injection
We provide a wide range of fuel injection parts and fuel cams and also offering plunger barrel, nozzle, delivery valve. They include a lot of dimensions and specifications. These precision engineered fuel injection parts and cams are manufactured by our team of engineers and technical experts at our state-of-the-art manufacturing unit.
Other parts include fuel pump rake, pipe, stud, automizer(nozzle holder) and pinion.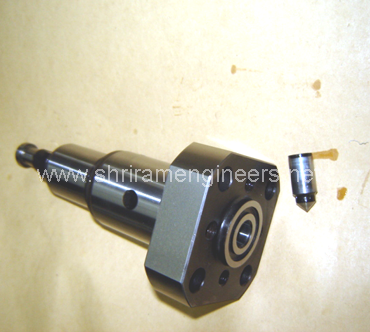 rocker arm
Our quality rocker arms are made from carbon steels, case hardening steels, or as per specifications by forging & investment casting process. rocker arms with chilled surface profiles are offered as well. Correct hardness and heat treatment cycle with accurately machined parameters ensures the trouble-free performance.
Other products include rocker arm lever.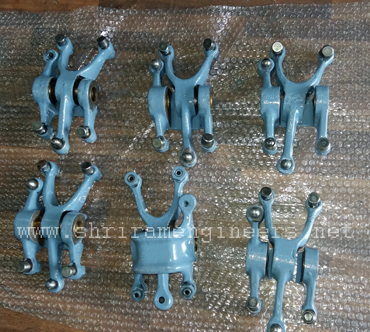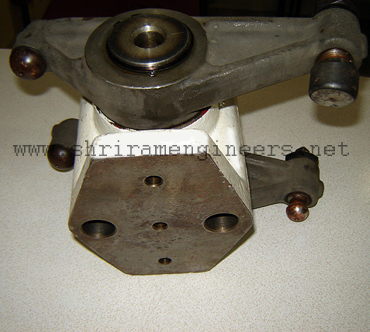 bearing/bushing
High precision big end bearings, main bearings, and bushings are offered in bi-metal (copper-lead based & babbitt/white metal based) & tri-metal (steel backed copper-lead with over lay of babbitt metal). We manufacture bearings and bushings with centrifugal as well as by sintered process, made from high grade materials they are durable in quality assuring higher performance and they are widely used as replacement in various marine engines and diesel generators, compressors & earthmovers.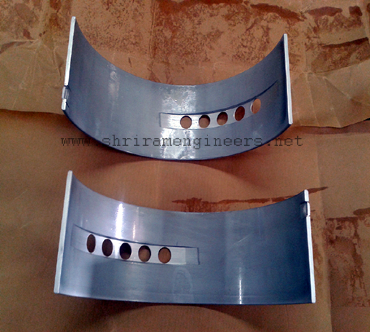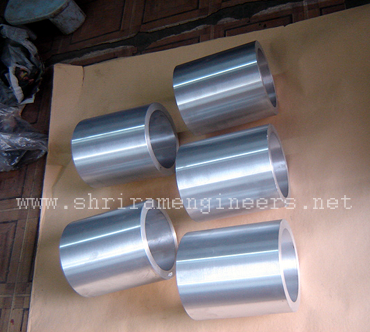 turbo components
Made from aluminum pressure die casting these turbo charger components are used in various marine engines and diesel generators.
Components include bearing, nozzle ring, sealing bush etc.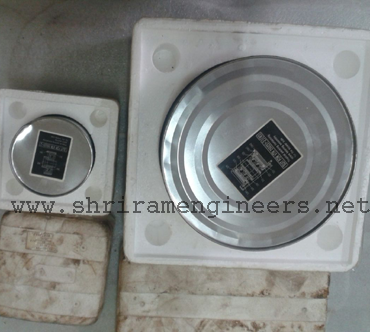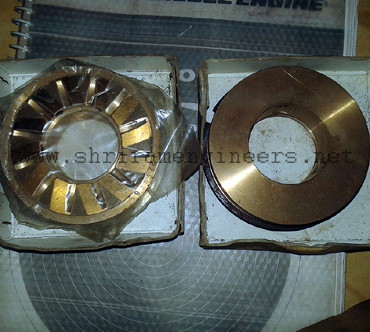 compressor pistons and parts
We manufacture compressor pistons for the following make/type:-

SPERRE COMPRESSORS LL2/77 LL2/90 LL2/105 LL2/120 LL2/140 LL2/160 HLH/119 HLF2/77 HL2/90 HL2/105 HL2/120 HL2/140 HL2/160 HV1/85 HV1/120 HV2/140 HV1/156 HV2/200 HV2/210 HV2/219 HV2/220 HV2/240 HV2/270 HV2/285 HV2/300

HATLAPA COMPRESSORS L9 L14 L20 L35 L50 L80 L90 L140 L160 L190 L220 L270 L350 W30 W40 W55 W110 W140 W220 W280 W330 W420 V105 V150 V200 V250 V375

HAMWORTHY SPARE PARTS V150 V250 V375 2TF5 2TF54 2TM6 2TM61/2/3/7/8 2MF6 2SM44 2SF3F 2SF34F 2SF4F 2SF42F

TANABE SPARE PARTS H-63 H-64 H-263 H-264 H-73 H-74 H-273 H-274 H-373 H-374 HC54A HC65A HC264A HC265A HC275A HC277A VH-275 VH-477 CMDAH264A CMDAH265A CMDAH275A CMDAH277A VLH-74 VLHOS-74 VLHH-74 VLH-114 VLHOS-114
refrigeration parts
SABROE SMC 100
CARRIER 5H AND 5F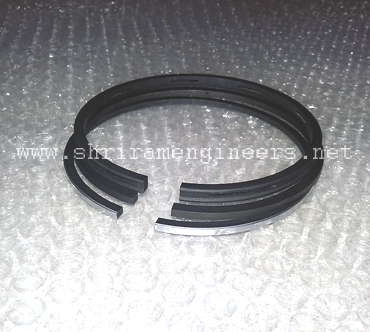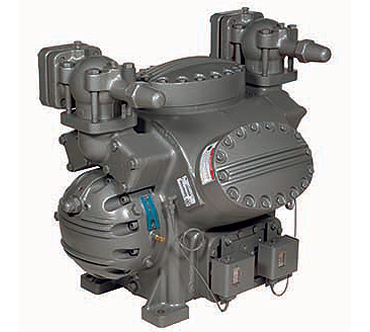 other products
We trade in WOODWARD Governors type UG8 / UG40 / SG-RSG as well as DIESEL KIKI Governors type RHD6.
Connecting Rods of various make/type including DAIHATSU DL22, MAN 40/45 ATL & WARTSILA 24 TS and WARTSILA R-22.
Gas Engine Spares.
Turbo Chargers.
Oil Filter as well as Fuel Filters.
Cylinder Covers/Heads.
Spring Plate, Valve Cage, Valve Rotator, Valve Spring (inner/outer) & Valve Cotter.
Thermometer and Pyrometer.
Turbo Charger Bearing.
Sea Water Pump Impeller.
Expansion Bellow.